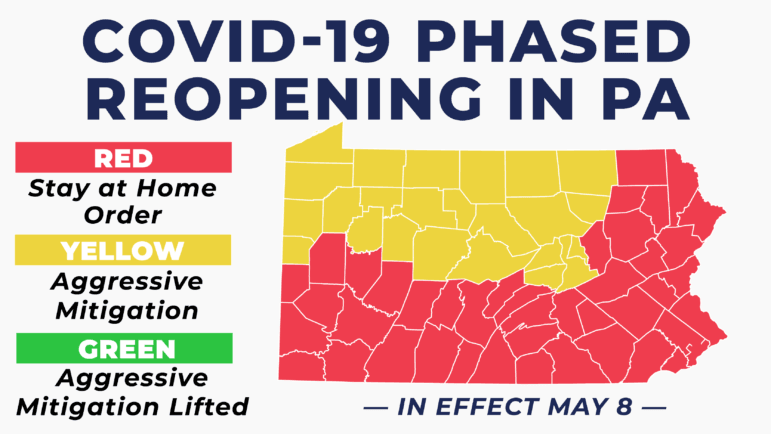 Update as of May 7, 2020
The PA state government is currently implementing a phased process to reopen Pennsylvania, moving from our current "red" phase to an eventual "green" phase, where mitigations are lifted for work, congregate and social settings.
While Centre County will move into the "yellow" phase of reopening tomorrow, not much will be changing in the current operations of Faith Church.
As the stay-at-home order is lifted, we will follow the recommended "aggressive mitigation" guidelines being provided by the CDC and PA state government, part of which includes a 25-person limit for large group gatherings.
For Faith Church, this means:
All worship services will continue to be held online only.
The church building will remain closed to small groups, Sunday school classes, and Bible studies.
Our Growing in Faith Daycare will remain closed.
The office will continue to be open with limited morning hours, Tuesdays-Fridays only. If you have questions or needs, please CALL or EMAIL the church office; DO NOT come to the church building.
If the guidelines and limitations in the "yellow" phase change, or when we move into the "green" phase of reopening, we will begin to open up our building for worship and in-person ministry. The health and safety of our congregation and community continue to be our priority and we appreciate your faithful support, encouragement, and patience as we walk through this difficult time together. If you have any questions, please contact the church office at 814.355.3358 or office@bellefontefaith.com.
Our building is closed. Our church is not.
To help slow the spread of COVID-19, all church buildings are closed and all in-person events are cancelled at this time.
Here at Faith, we are striving to listen to God, to do everything we can to fulfill our mission during these weeks, and to make faithful and wise decisions. To this end, our mission to make followers of Jesus continues in new and changing ways.
We are committed to becoming like Jesus as we grow in our three relationships with God, the Church, and the world. Here are a few ways we are learning to be like Jesus in this time of unprecedented change and uncertainty:
We continue to praise and worship God through worship gatherings online. These gatherings are live streamed at 8:15 AM and at 10:45 AM via Facebook, and can be viewed later on Facebook and YouTube. The 8:15 AM service includes traditional hymns played on piano or organ; the 10:45 AM service includes modern praise songs played by Faith's house band. A call-in option is available if you're offline.
We continue to support our children as they come to know and love Jesus with a weekly video posted on YouTube. These videos include interactive lessons and activities for kids and families to enjoy together, taught by familiar Faith family members.
We continue to support our students as they deal with disappointments about school and uncertainty about the future with weekly virtual youth groups, Bible studies and prayer meetings. These give our students a place to connect with each other and youth leaders.
We continue to pray for each other through our prayer team. Prayer requests are received during Sunday worship gatherings and through our website. A committed group of people pray for these requests throughout the week, as do staff, leaders, and individuals.
We continue to give to the ministry at Faith so we can love and serve our neighbors in Bellefonte and beyond. There are several options for giving digitally (online, text, via our app) as well as traditional methods (sending a check, bank transfer). Click here to explore giving options.
We continue to connect as followers of Jesus to encourage and support each other. Each Wednesday at 12:30 PM a member of the Faith family live streams a short devotional on Facebook. Our weekly eNews shares information and inspiration to Faith family and friends. Our newly-formed Connections team calls Faith family and friends to visit on the phone with those feeling lonely or isolated.
We continue to serve each other and our community. Currently, our active mission initiative involves sewing cloth masks for individuals and groups. We are hosting a blood drive in May, and we continue to monitor the needs at the Faith Centre Food Bank and are ready to support as needed. Future mission initiatives include leading a day of service in our neighborhoods (these and other opportunities to serve others are in the planning stages right now).
No matter the circumstances, Faith Church continues to be the Church as we follow and become like Jesus in new and innovative ways.
Be assured that Faith Church's leaders actively monitor our evolving situation and strive to get the most accurate information available. Please pray for those who are most vulnerable among us, those with underlying health issues, those who are awaiting test results, and those who are lonely and those who grieve. Pray for our neighbors who are serving their communities in so many brave and selfless ways.
And please pray for Faith Church as we seek to be faithful to God and serve the congregation and our community well while learning to be like Jesus, every day, in every way.