At Faith Youth we encourage young people to engage life with courage, compassion and faith.
Middle School and High School have huge ups and downs and can feel feel overwhelming. Youth Group is a safe space to experience kindness from an amazing group of students and volunteer adults. We teach the Gospel of Jesus as the hope of the world and a wise way to navigate family, friends, school, difficult situations and decision-making.
FALL CALENDAR IS NOW LIVE!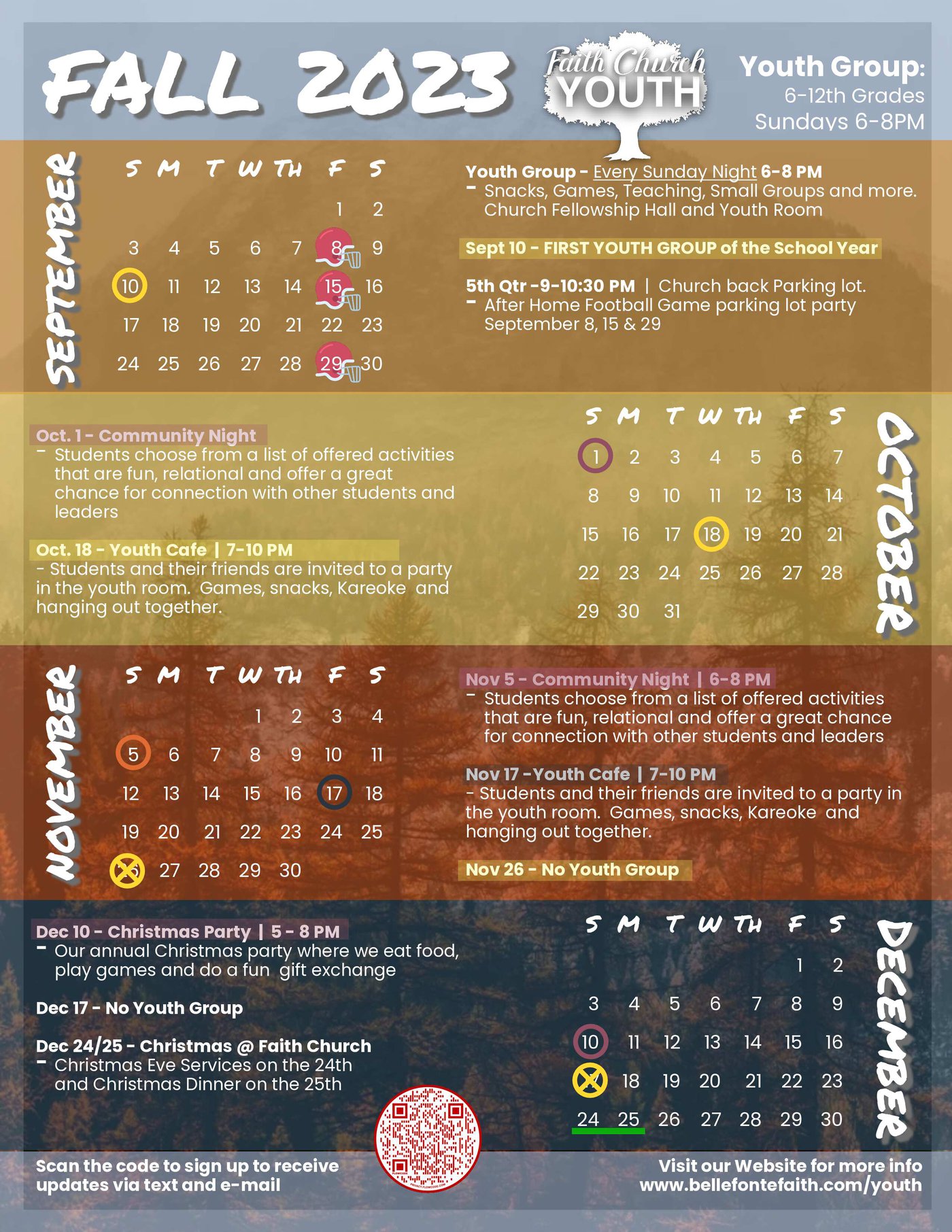 be in the know!
Get text message updates about youth ministry! Click a link below to get on the list. We send out a message or two a week.
Sign up for the student text list here.
Sign up for the parent text list here.
Get the parents only weekly email newsletter by clicking here or by texting PARENTOFYOUTH to 22828.
What can I expect at Faith Youth Group?
Our regular meeting time is Sunday Nights. Most YOUTH GROUP meetings start with 30 minutes of free time where students can play games, eat snacks and connect with each other and the youth leaders followed by large group games that range from low-key to high energy competitions. After the fun and fellowship together, we transition to a time of song and jump into a message from the Bible where students can connect with each other and engage the message, share prayer request, or offer life updates.
What's Community Night?
Once a month we have a COMMUNITY NIGHT event where students pick fun activities to invite friends to and connect with each other. We have an annual Christmas Party in December as a community night event and have done paint parties, movies/makeovers, trips to Get Air trampoline park and lots more.
Do we go on any trips together?
There are a lot of opportunities to take the fun, fellowship, and worship we experience at Faith Youth Group to other locations in Pennsylvania and neighboring states. These include our winter trip to Manheim, PA for the Zeteo Winter conference or our summer camping trip to Impact*, or our summer missions week service opportunity.
How can I get involved?
We would LOVE for you to be with us at Faith Youth Group! Contact our youth director, Jeff Pilger (jeff.pilger@bellefontefaith.com) , if you have any questions or would like him to introduce himself before your first visit.
the Cheering Section
We know families are busy and kids are involved in a lot.
Youth ministry leaders would love to be a part of celebrating what students are doing this year.
Welcome to the Cheering Section! We'd love for our leaders and students to fill the seats at your student's marching band parade, sporting event, art show or dance recital (or anything else you can invite us to show up for and celebrate). To do that, we need you to let us know when and how we can do that to support your student and you.
How? Click the button below to share what your student is doing throughout the school year--performances, activities, showcases, games, you name it. Each week youth leaders will try to gather some students and leaders to attend the events you submit.
This will be an ongoing and updated calendar, so come back every time your student is scheduled for something new.