upcoming events
Youth group meets on Sundays at Faith Church from 6-8 PM almost every week through mid-December.
Christmas Party: 12/19 - 6-8 PM: A fun night to celebrate Christmas together. Games, activities, and food.
Ugly Sweater Contest
Bring a snack to share (if bringing homemade dishes, please include ingredients lists for those with restrictive diets.
Bring a "White Elephant Gift" for our gift exchange (under $5, or from the basement or attic - funny gifts encouraged, garbage or anything questionable not encouraged)
No youth group meeting on December 26--enjoy time with your families.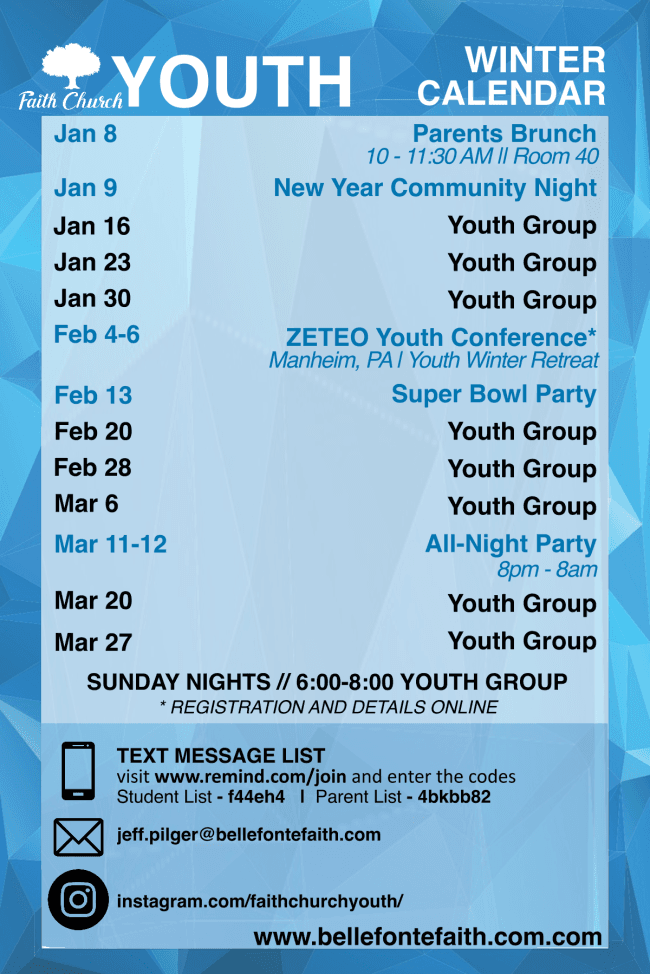 ZETEO registration
SAVE THE DATE for the ZETEO Youth Conference on February 4-6, 2022. Click the card below for full details, including costs and registration links.
Questions? Contact Jeff Pilger at jeff.pilger@bellefontefaith.com.
CPYU Parent Page
Check out the following link to the current Center for Parent/Youth Understanding newsletter, highlighting trends in teen culture research around modern family dynamics.
stay in the know
Get text message updates about youth ministry! Click a link below to get on the list. We send out a message or two a week.
Sign up for the student text list here.
Sign up for the parent text list here.
If you have any questions, please don't hesitate to reach out.
For more information about youth activity at Faith, contact Jeff Pilger at jeff.pilger@bellefontefaith.com or at 814.355.3358.
welcome Jeff Pilger
Faith Church is excited to welcome Jeff Pilger to our staff as our new full-time youth ministry director. Jeff has over 15 years of experience in ministry having served as a youth pastor, a campus minister, and a teaching assistant working with youth and their families.
Jeff, his wife Asia, and their three children, Allison, Liam, and Lauren, have been living in Rochester, NY, and are excited about moving to Happy Valley and joining the ministry of Faith Church.
Be assured: Pastor David is not going anywhere! We celebrate the twelve years of faithful and innovative service David has given to youth and their families, and we look forward to all the ways David will lead us in new areas of outreach.
Beyond discipleship, worship leading, and preaching, David will continue to develop and oversee our church online outreach, as well as leading us in exploring ways we can take the vision, mission, and ministry of Faith Church into new communities.
This is an exciting time in the life of Faith Church! Please pray for all the church leaders, staff, and everyone involved in ministry as we continue move forward toward where God is calling us as a church. As you pray, ask God how He might be calling you to ministry and mission to help others know Jesus and become more like Him.