followers of Jesus grow in 3 relationships
During his life, Jesus had three main relationships—one with God, one with the people of God (his "church"), and one with those not yet part of the people of God (the world). As followers of Jesus, we're invited to deepen and develop our relationships with God, the Church, and the world.
Each of these relationships are expanded into five rhythms (or patterns of living). Just as healthy relationships are not defined by a to-do list, so also the rhythms are not a list of things you "should be doing." Instead, people follow regular rhythms that deepen and develop their relationships. Here's a collection of rhythms that are present in the life of a healthy follower of Jesus.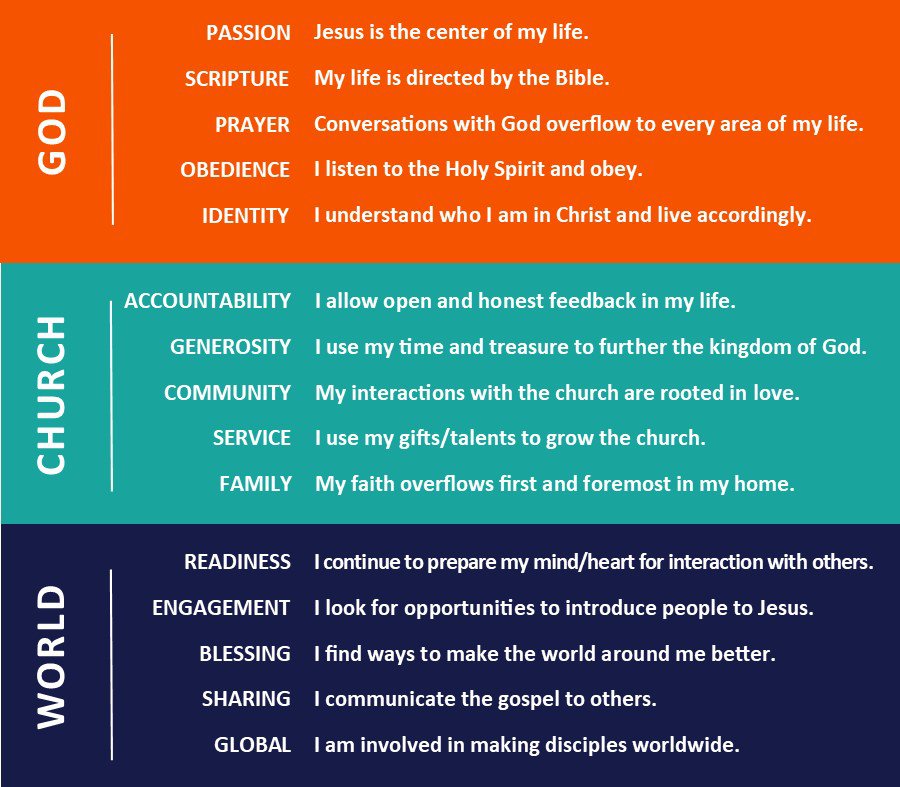 a simple 3-step plan to get started
To take the next step in deepening and developing your relationship with God, the Church, and the world:
1. Choose where to grow
The first step is to decide where to grow. Choose one of the rhythms above to focus on for the next season of your life. If you'd like, take the assessment to see in which areas you are stronger and which need some growth. Click here for the confidential spiritual health assessment.*
* Clicking this link will take you to the 3 Relationships site. Your results will be known only to you.
2. Learn how to grow
Once you choose an area to develop, take a few minutes to learn what practicing that specific rhythm entails by reading about it in the 3 Relationships Workbook. Click here to download the workbook.
3. Make one small change
Doing something is the bread and butter of the 3 Relationships. As we mentioned above, developing the rhythms in your life isn't rooted in a "to do" list. However, doing certain things will help you to develop these relationships in your life.
For every rhythm worksheet in the workbook there is an "Ideas to Grow" page that follows. That page has some ideas for developing that rhythm in your life. Whether you choose one from that page or come up with your own, make a change and stick with it.

And that's it! Over time, if you keep doing things to develop these relationships, you will look back and see the way God has been working in your life. If what you're doing isn't working for you, don't hesitate to find something else to do that will help you develop that rhythm.
The beauty of the 3 Relationships is that we always have room to grow, and we won't grow everything at once. When you've developed the rhythm in your life that you'd hoped to strengthen, start the process again with a different rhythm. And as you do, you'll keep creating space in your life for God to develop you into who you're called to be.
If you'd like to talk to someone about the 3 Relationships, fill out the form below.
want some one-on-one coaching in your 3 Relationships? Click below to learn more